Store Events
FREE & All Ages!

Maisie Peters live at Waterloo Wed. 10/4 at 1:30pm
Album: The Good Witch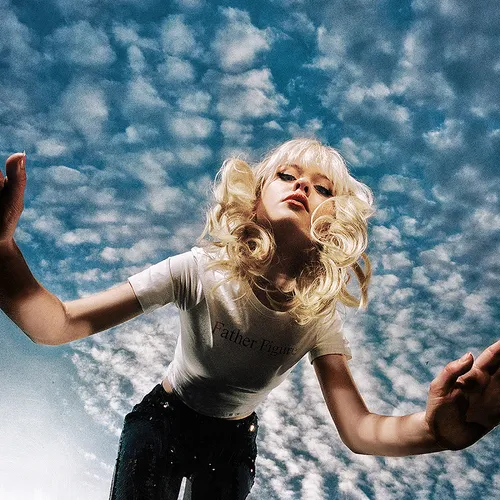 Born in West Sussex, England in the year 2000, Maisie has been writing songs since the age of nine. She would upload YouTube videos of her original songs and going busking on the streets until she was signed by Atlantic Records where she recorded 2 EPs. She eventually left the label and instead got signed by Ed Sheeran's label, Gingerbread Man Records. The Good Witch is pop singer/songwriter Maisie Peters sophomore album which released in June of 2023. With potent lyrical storytelling and robust instrumentation, it's no surprise the album charted at number 1 in the UK and made Peters the youngest female British artist in nine years to hold that spot. An exploration of personal growth and self-acceptance, "The Good Witch" brings some much-needed magic and hope to heartache. No purchase required to attend the performance and singing. However, capacity limits may apply. Maisie will ONLY be singing copies of The Good Witch.

Nemegata live at Waterloo Fri. 10/6 at 5pm
Album: Voces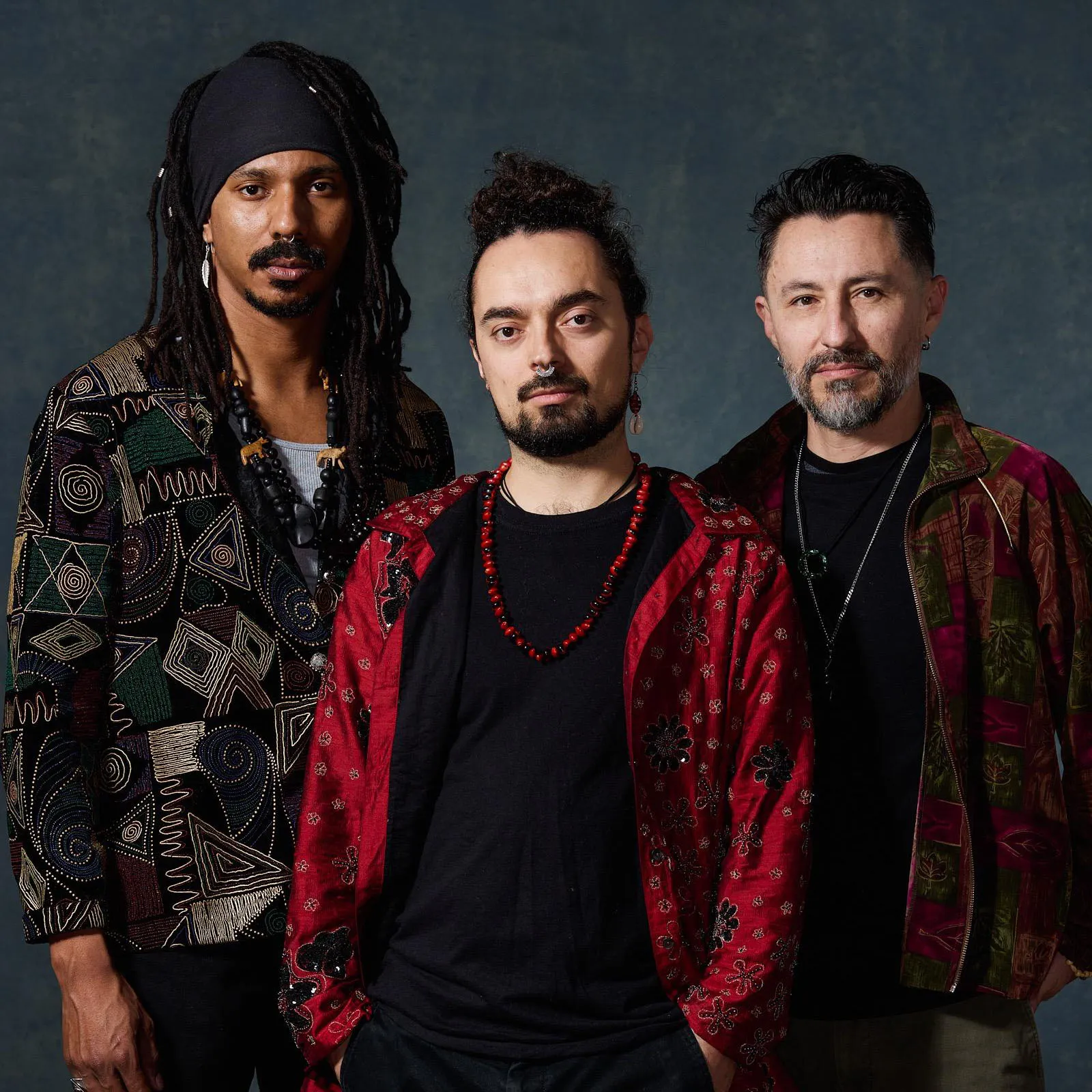 On their new offering Nemegata ascends the proverbial Holy Mountain. Their upcoming third full-length was recorded at Music in Buda, TX, and produced by Grammy-award Winning musician and producer Beto Martinez (Grupo Fantasma, Brownout, Money Chicha) The new album is a powerful Afro-Indigenous Colombian shamanic journey filled with tobacco-seeped jungle sounds, eerie synthesizers, and distorted psychedelic guitars. The band is heavily influenced by their native Colombian traditions such as cumbia, bullerengue, gaita music, Colombian Andean songs, as well as '60s and '70s mind-bending psychedelia from Africa, South America, and the Caribbean. Nemegata's futuristic take on tropical Latinx sounds and Abyayalismo has won over audiences and critics alike with their explosive live shows, earning them "Top 10 Local Acts" in 2019, alongside Black Pumas.

Restos live at Waterloo Wed. 10/11 at 5pm
Album: Ain't Dead Yet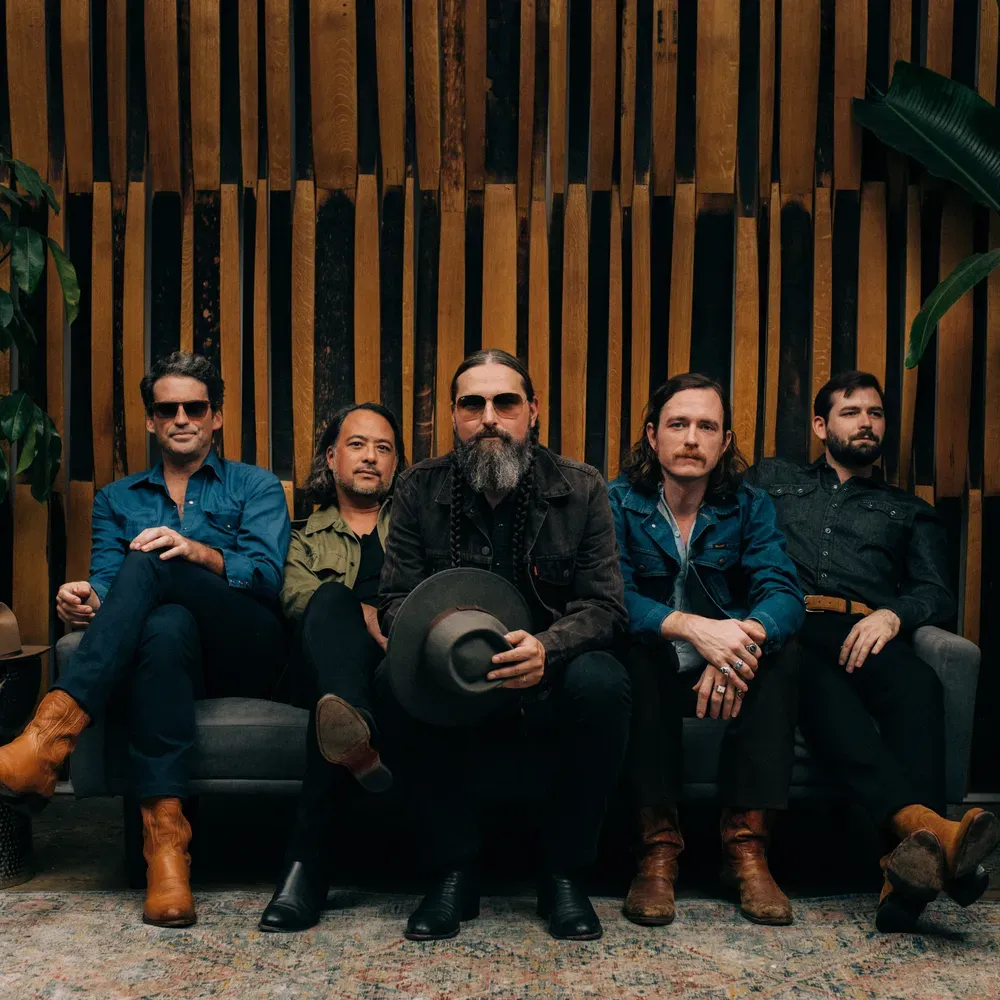 "Once we were six, now we are five" says frontman Graham Weber from Austin, Texas' "newest" rock and roll band, Restos. Born from the ashes of long time local favorites Western Youth, Restos provides a fresh start for the same old cast of characters - Graham Weber on vocals/guitar, Mark Nathan on lead guitar, Chris Spencer on bass, Sam Powell on keys, and Brian Bowe on drums. Rock & roll to its core with sprinkles of Americana, Restos is armed with a new album and a new perspective. Teaming up with songwriter, Jaimee Harris, the recording was done with Charles Godfrey at the helm at Austin's Public Hi-Fi, with Harris adding her contributions cut with Ray Kennedy in Nashville.  Weber and Harris' harmonizing vocals tinge the tune with a hefty dose of earnest yearning in their defiance to hang on. As for the name of the new band, it also strikes an apropos note, translating from Spanish to "remains." The band's debut full-length album, Ain't Dead Yet, releases on September 29th with the album release show at the Continental Club that evening.


Lukas Nelson live at Waterloo Thurs. 10/12 at 5pm
Album: Sticks and Stones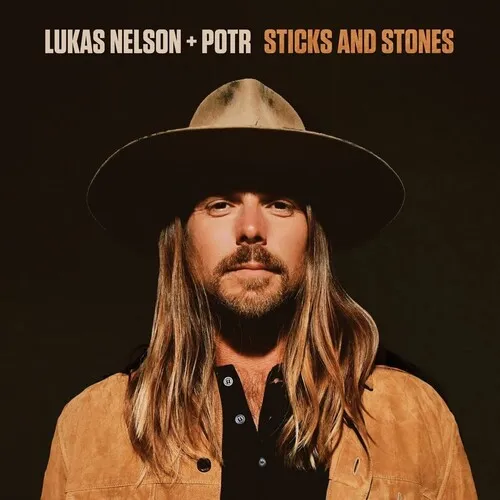 As an artist who's built a legion of international fans through relentless touring, Lukas Nelson wrote the entirety of his new album, Sticks and Stones, with his live audience in mind. After turning inward for his 2021 album, A Few Stars Apart, the frontman of Lukas Nelson + POTR is reaching further into his country music roots than ever before. Although Sticks and Stones is front-loaded with tongue-in-cheek humor and full-throttle tempos, the album also makes time for reflection, allowing fans to glimpse a different side of Nelson's personality. As the album's producer, he also achieves the near impossible: Capturing the electrifying energy of Lukas Nelson + POTR concert on a studio project. Purchase of Sticks and Stones gets you a priority admission wristband. Capacity limits will apply.




Gucci Mane Listening Party at Waterloo Fri. 10/13 at 7pm
Album: Breath of Fresh Air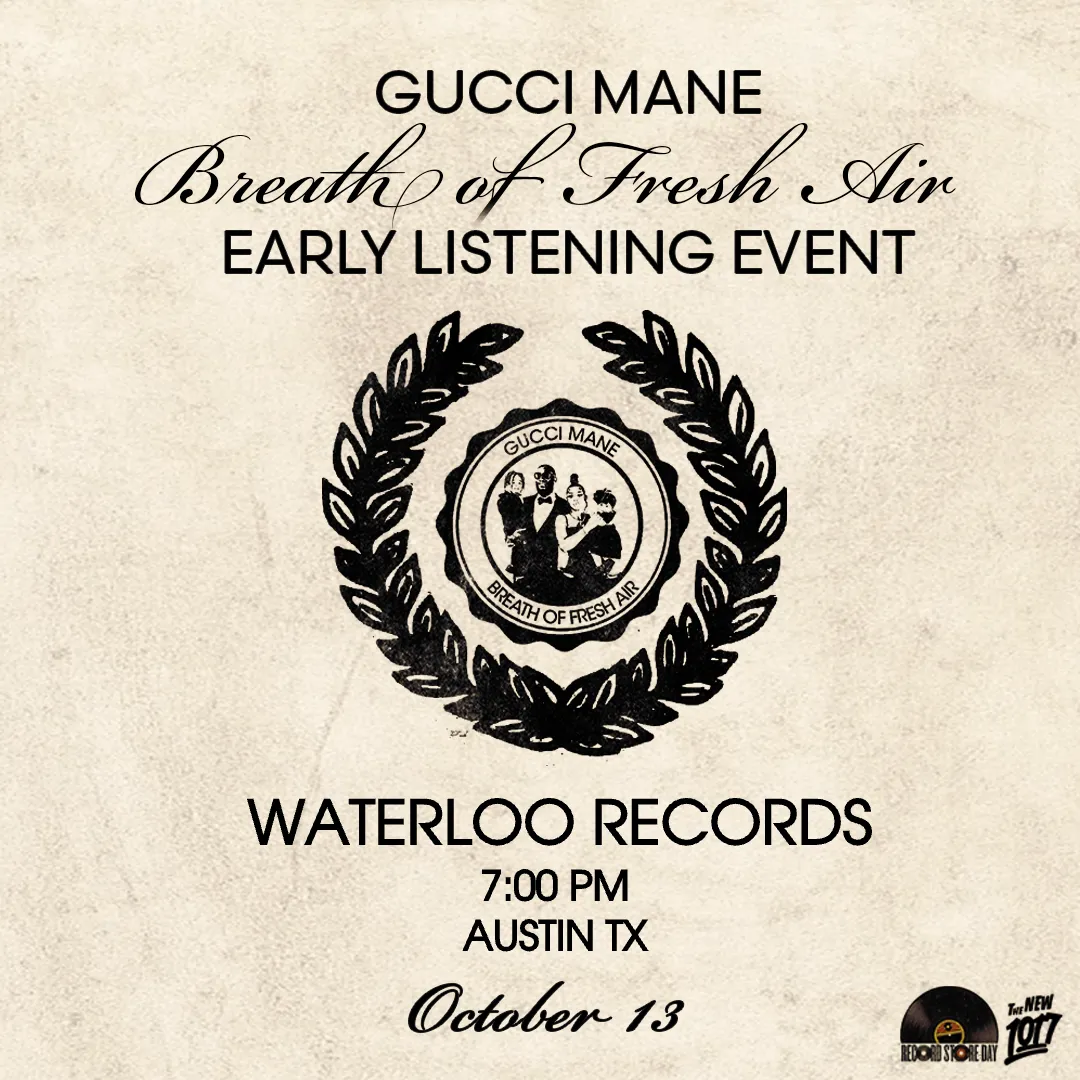 The ever-prolific Gucci Mane, who last year released an 80-song album with a nearly four-hour runtime that lasts longer than Titanic, will release another new album titled Breath of Fresh Air, out Oct. 13. Over the past few months, the rapper has released several singles that will now feature on the LP. These include "Bluffin" – a duet with Lil Baby on which the latter brags about "shroom sex" – "Pissy," a track with Roddy Ricch and Nardo Wick, "King Snipe" with Kodak Black, and "06 Gucci" with DaBaby and 21 Savage.




Harvest Thieves live at Waterloo Thurs. 10/19 at 5pm
Album: As The Sparks Fly Upward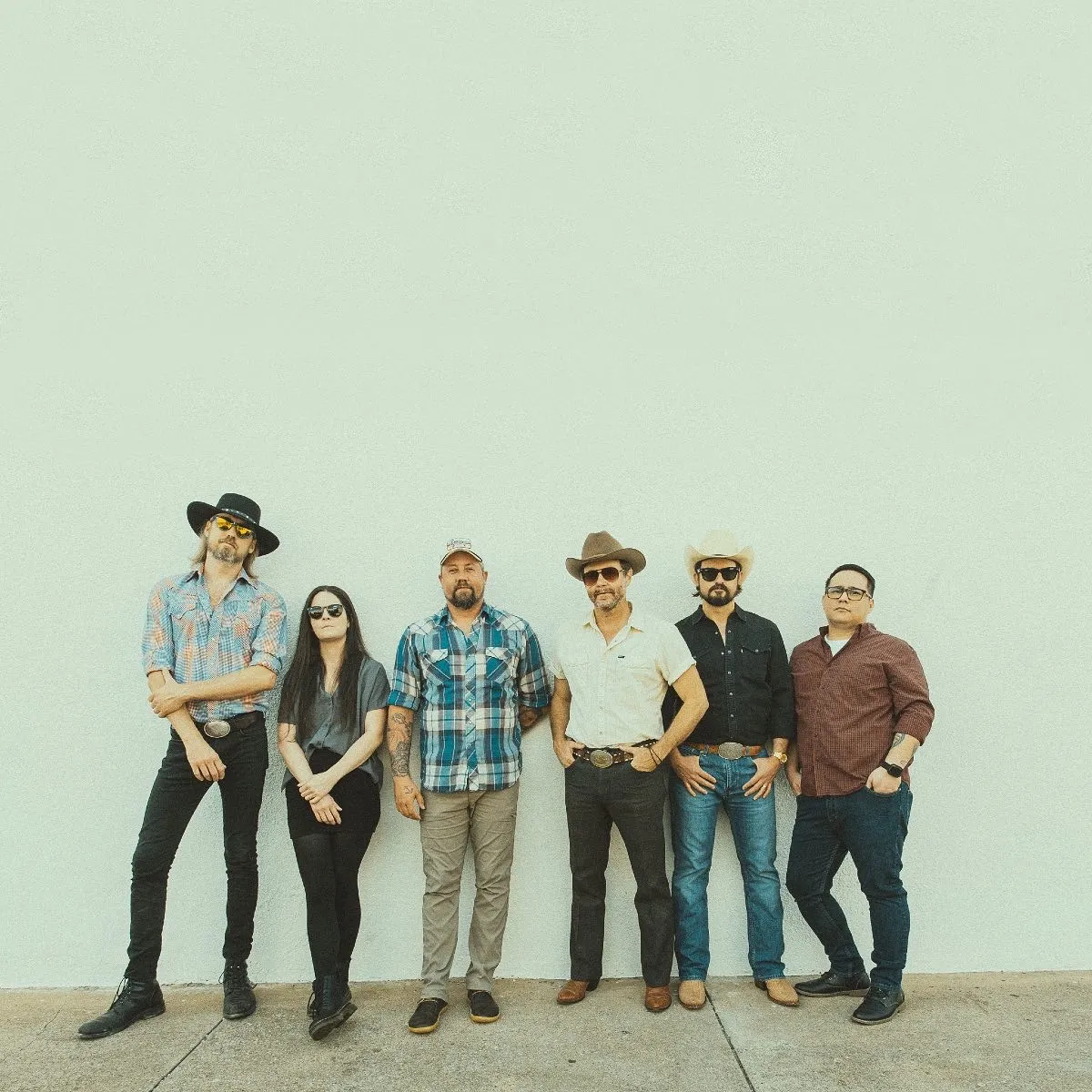 Upon first listen, Harvest Thieves' native Texan roots show through. The band's well-crafted lyrics are confessional yet fluid, and they paint with strokes that put you squarely into a story - in a way that eases a relation to your own. AS THE SPARKS FLY UPWARD - the band's second full-length album - was written and recorded over a four-year period that witnessed the arrival and passing of the pandemic. Rather than a record about the ills of confinement and separation, the album survives more as a living document of the strangeness and aberration that occurred. Co-produced by Grammy-nominated Matt Parmenter and Harvest Thieves, AS THE SPARKS FLY UPWARD was recorded at Ice Cream Factory Studios in Austin and features twelve original songs, eleven of which were written by Harvest Thieves. The band's longtime friend and collaborator Graham Weber also contributed a song to the album. The album also features legendary pedal steel player and prolific producer, Lloyd Maines, as well as country fiddle virtuoso, Beth Chrisman. The album releases on Friday, October 20th, with the release show later that evening at The White Horse.